LOG STORE WITH DOUBLE PITCH ROOF – STYLE C: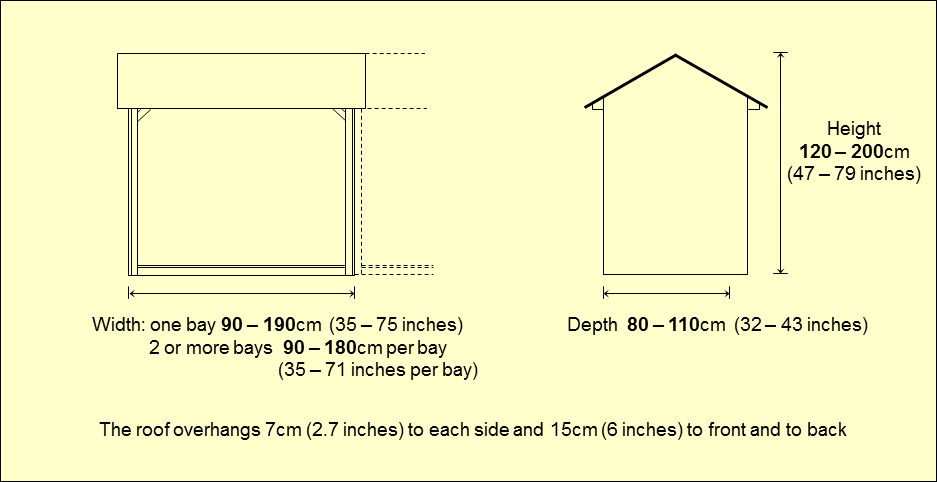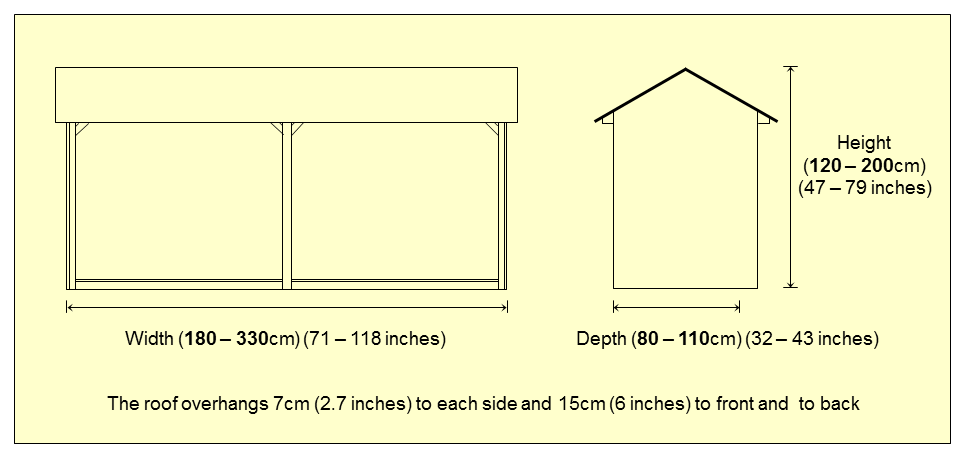 The Style C log store
The Style C log store has a double-pitch roof with a ridge running along the centre. This enables us to build a deeper and larger log store than is possible with either of the Styles A or B. With one-piece side panels, the depth can be up to 110cm and with two-piece side panels, this can you up to 160cm.
This Style is particularly suitable for settings where the log store stands alone with space all around it. The log store roofing overhangs on all four sides giving it an elegant appearance. We have built one of the larger ones with a divider wall in the middle so it could be accessed from both the front and the back.
Optional extras include doors and preparation for alternative roofing materials. A kindling shelf is not appropriate for this Style.
Getting a quotation
To get a quotation, either press the get a quote button and provide the details requested or give us a call on 01691 648731. We will then get in touch within 24 hours to check any details, if necessary, and provide a price and delivery date.
Selecting the dimensions
-        The depth can be from 80cm to 110cm (single-piece side panels) or 120 to160cm (two-piece side panels);
-        The height can be from 140cm to 200cm (single-piece side panels; 180cm to 200cm (two-piece side panels)
-        It may have one or more bays.
-        The width for a one-bay unit can be between 60 and 190cm
-        The width for two or more bays is almost unlimited as long as each bay is between 90 and 180cm;
-        Our log stores are delivered on a pallet in panel form and the size limits above are governed by the maximum size of pallet our carrier can handle.
The diagrams show you what is possible. (Click either diagram to enlarge.)
Pricing
Each log store is priced individually based on the dimensions and features required and the post code to which it will be delivered. The pictures above were kindly sent in by customers and below each we show the dimensions and indicative prices.
Prices start from £380.
Availability
Our lead time is normally 3 to 4 weeks depending on complexity. These times may be extended when demand is particularly high.
Placing an order
You can order by emailing your confirmation of the quotation or giving us a call. Payment can be by credit card, debit card or bank transfer.