Log/bin store - Custom D Log Stores (Double sided/Double depth)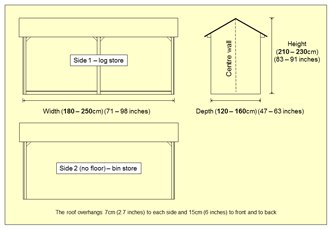 Details
Price: These log/bin stores are made to measure and individually priced according to the size you require. All of the pictures shown on this page are examples of units we have made to customer requirements. The dimensions and price shown under each picture are given only as a guide.
This range is available in one or two bays in several different styles:
With a two-bay log store on one side and an open wheelie bin store on the other.
With a two-bay deep log store on each side.
With a one-bay log store and open wheelie bin store on the other.
With a one-bay deep log store on one side.
We accept payment by credit or debit card.
We can deliver to anywhere in the British Isles. The cost of delivery will be included in any quoation you may request.
Availabilty: Lead time is currently four weeks.
To obtain a quotation: Select the QUOTE button below or alternatively call us on 01691 648016. Please see the diagram above for size options.
Wheelie bins are not easy to store tidily so we are offering this large double-sided store which has a wall down the centre. On one side there is a two-bay log store with a standard ventilated floor. The other side provides covered space for wheelie bins, which can be easily wheeled out when required.
Alternatively, we can provide a similar unit with log storage space on both sides. The central wall offers the advantage that all logs are within an arm's reach from one side or the other.
Either option offers an attractive structure that would enhance any garden landscape.
If you can provide us with the measurements of the unit you would like, we will design it and give you a price and provisional delivery date. A firm date will be given at the time of ordering. We may wish to check the sizes with you to ensure that they are practical for manufacture and use.
The diagram above of the Custom D two-bay log store shows how the width, height and depth are measured and the range of sizes we can accommodate. (Click diagram to enlarge).