Designing our Log Stores
There are three key issues to address when designing our stores:
  1. Function – it needs to fulfill its primary purpose safely, effectively and attractively.
  2. Delivery – we need to get the unit safely to the customer without damage and in a manner that is safe for the carrier and for the customer receiving it.
  3. Assembly – it must be possible for the customer to put the unit together with standard tools using easy-to-understand instructions.
All three have to be achieved, whatever the size and style the customer has ordered.
This week we look at delivery. The packages can range in weight from 60kg to 500kg – so we have to get it right.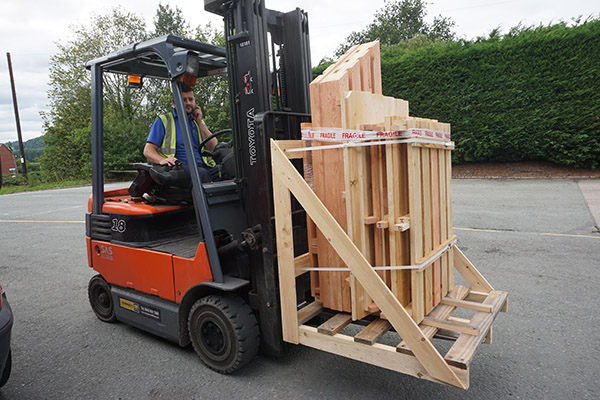 Our aim has been to get the delivery to you on time every time without damage. Our approach to manufacturing planning means that we always despatch our orders on the date promised – without fail. Over the years the design of the packaging and indeed the design of the product have been changed to improve the handling and eliminate any sources of potential damage in transit.
Our experience now is that shipments do arrive as planned and without damage. Failure to achieve these is now very rare.
But it was not always the case. Initially we used a parcel carrier and we would get occasional damage or part deliveries would get lost. On each occasion, we would analyse what went wrong and attempt to avoid that issue in the future. We always rectified any losses as quickly as possible but this was very disruptive to our operation and, in the end, the damage rate was too much and we switched to delivery by pallet.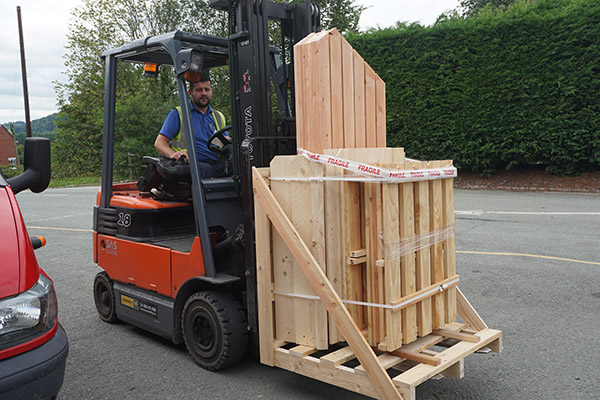 Delivery by pallet required us to design a special pallet and change the product design. But it has enabled us to offer storage units that are easier to assemble and could be potentially larger.
 One disadvantage for us is that, while the parcel carrier would collect from us, the pallets have to be taken in to the carrier's own depot. Roads here in Wales can be very narrow and twisty. We certainly cannot get a pallet delivery lorry to the site we use for manufacturing. So once a week, we do the 40 mile journey to the far side of Welshpool in our smaller vehicle to take the storage units on the first leg of their journey.
At the receiving end, we arrange for the carrier to call you to make arrangements for delivery so a time can be agreed and any issues of location or dropping point can be discussed. This has been very successful and hitches are now rare. The delivery vehicle has a tailgate and pallet truck so the unit can be positioned where a pallet truck can reach.
The pictures show Tomos unloading a Style A and a Style B at the carrier's depot.
Please go here for more information on our bespoke, made to measure log stores